WooCommerce is one of popular go-to options for business owner to create an online store; and perhaps the most wanted one in WordPress world.
Having a WooCommerce store means having a 24/7-ish outlet to win sales and growth of your business or services. When you have all your products up and ready to roll, you'll work on marketing stuffs to drive sales and profit. Sometimes it is easy and sometimes not. However you'll be easier to get there with smart strategy.
Providing best price value will perhaps make your store stand-out and will be one reason for customers to buy from. Setup a sales price will be best choice for this, as well as price deduction with coupon system.
WooCommerce Smart Coupons plugin would be a game changer for your business running on WooCommerce, as it provides exhaustive coupons management that your customers would gratify. It will extend numerous times from the default coupon that is already your WooCommerce.
Along with its rich features, Smart Coupons is all-in-one solution for:
Gift certificates — create gift cards of any amount for customers to purchase.
Store credits or vouchers — send store credit to customer, specify amount and add message.
Discount coupons — limit maximum discount customers will get when purchase discounted products. It will shield your money from critical loss.
How to access Smart Coupons?
This plugin is hosted on WooCommerce.com, which requires a purchase and you can get it from this link. Installation process is easy, just like any other plugin, where you can go to Plugins menu > Add New > Upload; and follow along the process. Once enabled visit WooCommerce > Coupons menu.
4 new tabs of Smart Coupons:
Coupons
Bulk Generate
Import Coupons
Send Store Credit
Bulk Generate
Import Coupons
Send Store Credits
Export Coupon
Print Coupon
Smart Coupons plugin's links for:

Smart Coupons Settings
FAQ's
Let's look back how coupon panel looks when Smart Coupons inactive, that shows its total difference.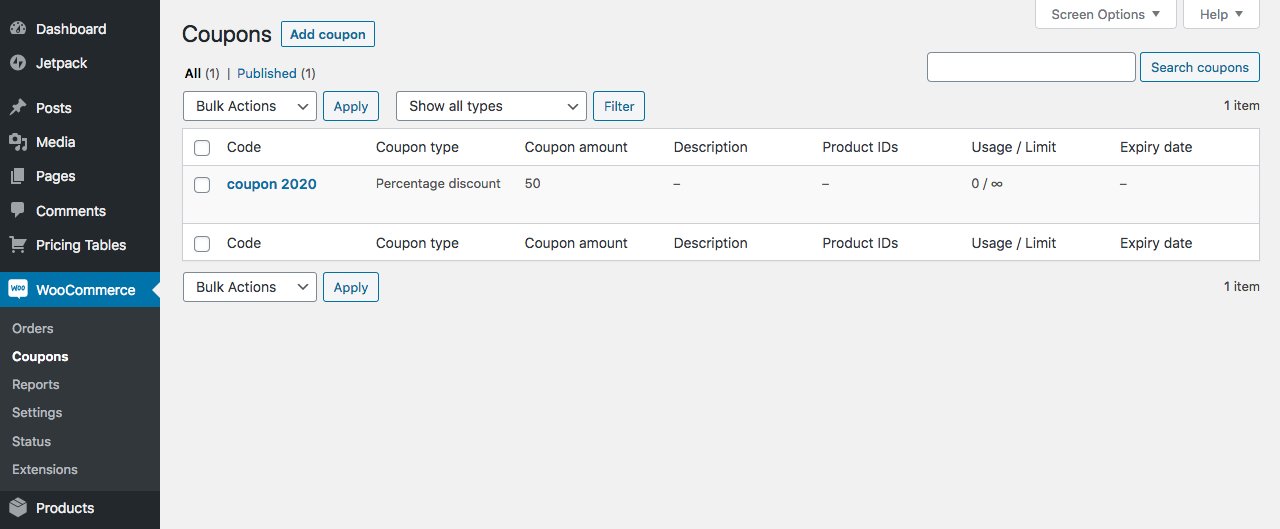 Important: To use Smart Coupons, ensure your WooCommerce store has coupons enabled. Otherwise you'll get invalid post type error (See FAQs). You can enable it from WooCommerce > Settings > General > Enable coupons.

Now you are ready to create and manage your coupons.
Smart Coupons allows to restrict to which locations your coupons will only be valid for whether:
By country, state, city and zip code
By payment method
By shipping method
By user roles
This options are available on each coupon editing panel; under Coupon data > Usage restriction.
Furthermore, you are also able to specify the limit usage for each individual coupon. 3 types of limitations available are:
Usage limit per coupon: How many times this coupon can be used before it is void.
Limit usage to X items: The maximum number of individual items; where this coupon can apply to when using product discounts. Leave blank to apply to all qualifying items in cart.
Usage limit per user: How many times this coupon can used by an individual user. Uses billing email for guests, and user ID for logged in users.

How to display coupons?
Admin settings to display coupons can be accessed through WooCommerce > Settings > Smart Coupons. Available display options within "Displaying Coupons" section are:
Include coupon details on product's page, for products that issue coupons
Show coupons available to customers on their My Account > Coupons page
Include coupons received from other people on My Account > Coupons page
Show invalid or used coupons in My Account > Coupons
Display coupon description along with coupon code (on site as well as in emails)

Display all available coupons in any page using shortcode
By default, available/usable coupons are visible on cart, checkout & my account pages. But if you want to display on any other pages you choose, use [wc_sc_available_coupons] shortcode.
Example:
[wc_sc_available_coupons title="Available Coupons (click on a coupon to use it)"]
Output: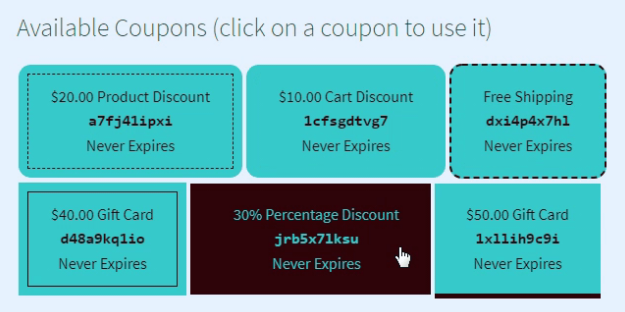 Styling coupons' appearance/design
Like many other great plugins, Smart Coupons offers solid options to allow us manage almost anything including the design. To change your coupon's appearance/design, go to WooCommerce > Settings > Smart Coupons > Coupon style.

To learn more the complete features that Smat Coupons offers, visit its product page on WooCommerce.com, play around with the demo, or read the FAQs.